One-hundred and fifty years ago today, a motley collection of toadies led by a drunken, genocidal doofus were forced by their colonial overlord to unify a bunch of uncertain, tenuously-related colonies into a single colonial governing apparatus which would be cheaper to run. Three of these colonies were so unimpressed that they had to be bribed in; another was tricked into Confederation and had no way to reverse the trickery. Since this impossibly auspicious start, Canada has evolved from an unsteady collection of self-loathing economic has-beens to a larger collective of self-loathing economic has-beens. Truly, nothing could be more worthy of celebration!
For shit's sake, King Tim Himself has deigned to bestow another Roll up the Rim upon the land! When you roll up that rim and discover that you won nothing, the rim reads "Happy Canada 150th". Which is a great launching point, because 150 is all about idle expenditure and Potemkin displays of grandeur that leave Canada ultimately with nothing except the bill. Why use the opportunity to build lasting projects with celebration funds, thus enshrining the significance of the event for decades to come, right?
Believe it or not, Canada once used an arbitrary event to procure funds for useful projects. Coincidentally, Centennial '67 remains a pivotal point of Canadian national identity. Canada's cultural bankruptcy is even more apparent when you look at how shamelessly the (admittedly pretty kickass) Centennial logo has been aped for Canada 150. It's not even a try at anything new, leaning instead on revisionistic nostalgia to appeal to cakers.
Where do I see the lingerings of Canada's Centennial in Canada today? Ottawa's high arts scene, largely esconced in the halls of the National Arts Center, was a gift from the federal government. Indeed, Ottawa was spending $100 million as of 1964 investing in concrete manifestations Canada's cultural and social fabric. As per the above-linked report, there were over 2000 projects completed. Most Canadians don't even realize how prevalent Centennial buildings are – if there's a major arts center in your city, it's probably a gift from Ottawa back when the federal government recognized that it has a semblance of responsibilty and isn't simply an exercise in sock-wearing and selfie-tweeting.
The unique funding model for these developments saw a dollar per person given to every municipality and federal funds matching provincial dollars going towards needed public infrastructure. Montreal's Metro system grew as it did because of the pressures stemming from Expo '67. In a rare instance of valuing literacy and public availability of knowledge Canada even deigned to create boom of library funding. Dare I say that these kinds of investments are the investments of…a civilized people?
Alas, in cakertown all turns to mediocrity, and the goals and missions espoused by Centennial (which was itself largely the brainchild of John Diefenbaker, who was again buried out of caker history by way of revisionistic make-believe as to the merits of a caker business project) were no exception to the rot. Where once Canada used milestones to build libraries and to create major public infrastructure, Canada now uses shittons of money to fund.
1) Counterfeit, huge-ass rubber duckies!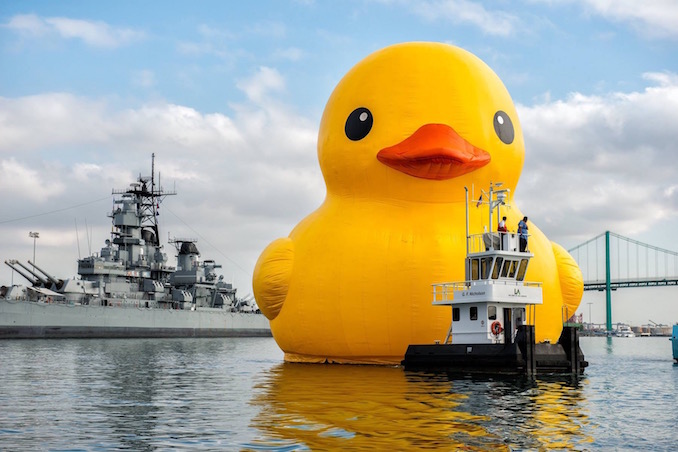 Of course, nothing could ever leave Canada with the lasting benefits of public betterment quite like a large rubber ducky! The oversized bath toy was inexplicably dragged into Toronto Harbor (did I mention that Toronto's Waterfront was a Centennial project?) at a cost of…wait for it…$200,000. What a large bath toy has to do with Canada is beyond me, but in the article I linked there the justification provided is that it has lots of selfie-potential and is "fun". That rumbling you feel is Diefenbaker rolling in his grave.
And that's not even the whole story! See, this giant-ass, unrelated novelty project is apparently a counterfeit. You can't make this shit up, folks. Even better – the counterfeiter is a profiteer, as the Dutch firm responsible for the original duck has stated that their giant rubber duckie was not-for-profit and was effectively stolen by the guy Ontario chose to do business with. Even though I personally think that a giant rubber duck is a silly investment in the first place I respect the vision of the original designer. Immediately gravitating to the most corrupt option is quintessential Queens' Park, though.
2) Basic maintenance that any reasonable government would have dealt with ages ago!
One of the key elements of the Centennial projects is that they were major civic improvements undertaken for the sake of lasting legacy. Instead of trying to make Canada's squalid cities slightly more interesting by way of major public works, Ottawa for Canada 150 is selling basic maintenance like "re-roofing hockey arenas and resurfacing trails". Problem with that, though: you're supposed to maintain your shit as a matter of course. Here's one pivotal, memorable Canada 150 project – fixing broken roofs and floors in a community center! Because in Cakerstan doing the bare minimum required to avoid having your infrastructure overtly collapse is only achieveable during celebrations.
Credit to P.E.I, though – a bunch of tall ships is a much cooler harbor addition than a fucking rubber duck. Oh, and what's with Pravda refering to 1 July as Canada's birthday? What vagina did Canada come out of again? At least call it an anniversary, guys.
3) The biggest Canada flag for Greatest Canada on Greatest Canada Day!
Windsor, Ontario is jokingly referred to as "south Detroit" by cakers wishing that their worthless suburban sadsack shithole of a city had even a sliver of the pride and ferocious commitment to self-improvement found in Detroit proper. The place could use some fucking help, a marquee project that isn't a casino that might contribute to the city being known for more than a mediocre university and a casino that still thinks Dadcore from the 70s is worth putting on stage. What does Ottawa agree to give Windsor money for but…the largest Canadian flag ever.
I think I'll just leave this quote from Nineteen Eighty-Four here and move on:
"About a quarter of one's salary had to be earmarked for voluntary subscriptions, which were so numerous that it was difficult to keep track of them. 'For Hate Week. You know–the house-by-house fund. I'm treasurer for our block. We're making an all-out effort–going to put on a tremendous show. I tell you, it won't be my fault if Victory Mansions doesn't have the biggest outift of flags on the whole street!'" (pg. 59)
4) Providing space for a U2 Concert!
Who the fuck wants to listen to U2 in this decade? Seriously – they couldn't even give an album away for free, and you've decided that a group of self-important Irishmen are worth hosting front-and-center on Canada 150? They aren't getting paid to be there, but the opportunity cost – having an actual, novel Canadian act perform – is a telling one. Apparently #RealChange doesn't think a Canadian act is worthy of taking the timeslot. Then again I can imagine few people getting on with Justin better than Bono, an egoistical fruitcake with nothing to bring to the table trying to squeeze himself into the center of attention. So I guess Bono does represent the spirit of 150 even if it isn't exactly the kind of spirit Canada wants promoted.
5) Endless fucking chances to "tell the world" what Canada means to you!
Nothing is creepier about Canada than its insistence on having people speak on camera as to how much they love Canada. Naturally, these useless recordings are valuable only as propaganda; the factors that made the filmed caker love Canada are transient and subject to change over time, but we never see that kind of longitudinality in these surveys.
It's also really creepy when adoration is demanded from not one, not two, not three, but four separate entities on Canada's "signature projects" page. Give it a fucking rest, people! We get it, you're desperate for people to like you and unable to put in the kind of effort that would actually get people to like you. During Centennial "signature project" referred to major infrastructure investments (which as we've seen have been replaced by basic maintenance, reflecting Canada's squalor and the low bars which Canada sets for its own self-validation). Here, a signature project is a means of inflating the Canadian ego through digital recording in a way that is designed to be transient and pointless.
Oh, and here's my #Wish150
Legit, though. It's not just me – this is all really sketchy in the "would be a huge red flag if this were an interpersonal relationship" way to you too, right?
6) Junk historical research from a junky institution!
Oh, Pravda. Wouldn't be a Canadian Canada Celebration of Canada without the CBC stepping into some kind of cowpie. And indeed they did, launching the epic (and ahistorical) television series "Canada: the Story of Us". No less than #RealChange himself gave assent to this project, which has been decried as being written with "alternative facts" that cast an English pall over the entire story. Vollmann, the fiction author, has written a better, more nuanced take on Canada's history with the Ice Shirt than the CBC did with the resources of the entire Canadian government.
What kinds of inconsistencies are present, you ask? Well, it portrayed the Quebecois as shabby turdmunchers who don't even speak their own language properly because Pravda failed to hire native Francophones (which is an incredible oversight), ignored the province of Nova Scotia entirely while underplaying the significance of Indigenous Peoples and glorifying the English colonizers who, I remind you, ultimately would culminate in a drunken retard trying at genocide by kidnapping children and starving whole populations. The entire affair, which I remind you was headlined by the Prime Minister, has the feel and pomp of an African dictatorship trying to justify itself in cinema.
No take-backs! No corrections! No refunds! #SavetheCBC
Well, that's a smattering of the stupidity that is Canada 150. Fuck this whole project, fuck the concept of a Canada 150, fuck Canadian revisionism, fuck cakers, and fucking fuck does it suck living in a real-life version of the Nineteen Eighty-Four Victory Parade. I think I'm going to keep working on editing the old shit for a while. Progress is still happening, but you'll have to follow the Table of Contents to see it. Don't you worry – posts #201+ are coming on up! Expect to learn about the RCMP's terrifying "fruit machine", some more comments about poorly-built buildings, maybe a major-city focused shitshow extravaganza?
Shit about Canada wishes you and yours a critical, tolerable Genocide Appreciation Day!